So instead of using a standard old electric resistance hot water heater, how about a heat pump water heater?  What is the difference?  Instead of using just electricity, it uses natrual warmth from the house to more efficiently heat your water.
So back in 04/2013, we soent $1,058 dollars on a GE GeoSpring Hybrid Heat Pump Water Heater: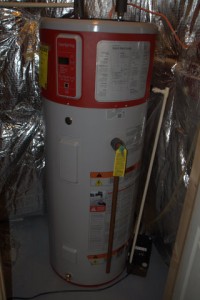 With an instant $300 Federal Tax credit and a $350 rebate check from SMECO (our local electric utility), the sticker price dropped to $408.  Using TED, I was able to see that this unit then dropped our hot water heating consumption by 1/3!  (we have always been able to run it in full heat pump mode – but it does have a standard electric backup – smart enough to know when it is needed).
Further, since we have this in our basement, another benefit is that as it pulls in air to the heat pump, it actually dehumidifies the basement to help remove any exrtra moisture.
Finally, an added bonus for our specific setup – we have "Domestic Hot Water" pre-heat from our Water Furnance Ground Source Heat Pump (geothermal) heating and cooling system.  This takes any additional heat from the Water Furnance, particularily in Summer, and heats a tank of water.  So what?  This means instead of 55 degree ground temperature water, our water heater normally starts with 62 degree water that has been pre-warmed.  Seen here is just the non-powered holding tank that feeds the GeoSpring Hybrid Heat Pump Hot Water Heater.